Highlights
Explore enriching activities outside of classroom learning.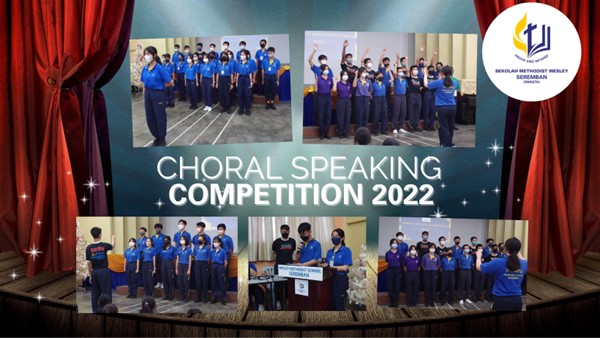 Choral Speaking Competition 2022
A big congratulations to Form 2 Peace and Form 4 Arts students who have won the trophies for Lower Secondary and Upper Secondary respectively. Choral Speaking was held on the 8th December 2022 with Christella Hing and Ng Yew Herng from Form 3 Peace being the emcees for the day. Madam Liu YC (Principal) and Mr. Solomon (Academic Coordinator) were the judges for the event.

Choral Speaking is an ensemble speaking by a group often using various voice combinations and contrasts to bring out the meaning or tonal beauty of a passage of poetry or prose.*
*https://www.merriam-webster.com/dictionary/choral%20speaking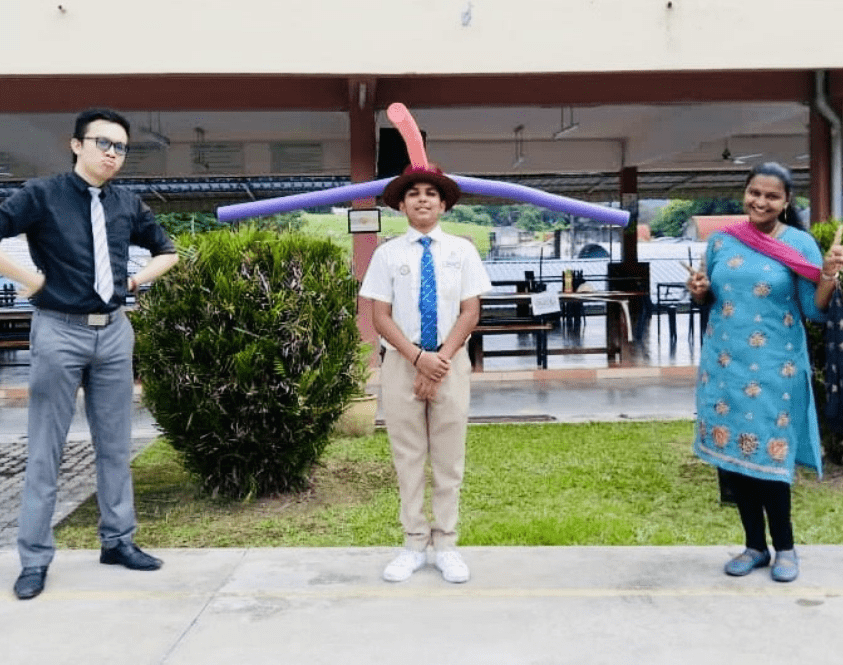 Learning through Arts & Creativity
Our lower secondary students designed and made physical distancing hats using pool noodle, cardboard papers & materials from home. This creative project was to keep us safe and to bring about excitement on coming back to school. The physical distancing hats are guaranteed to keep you safe within a range of 1 metre!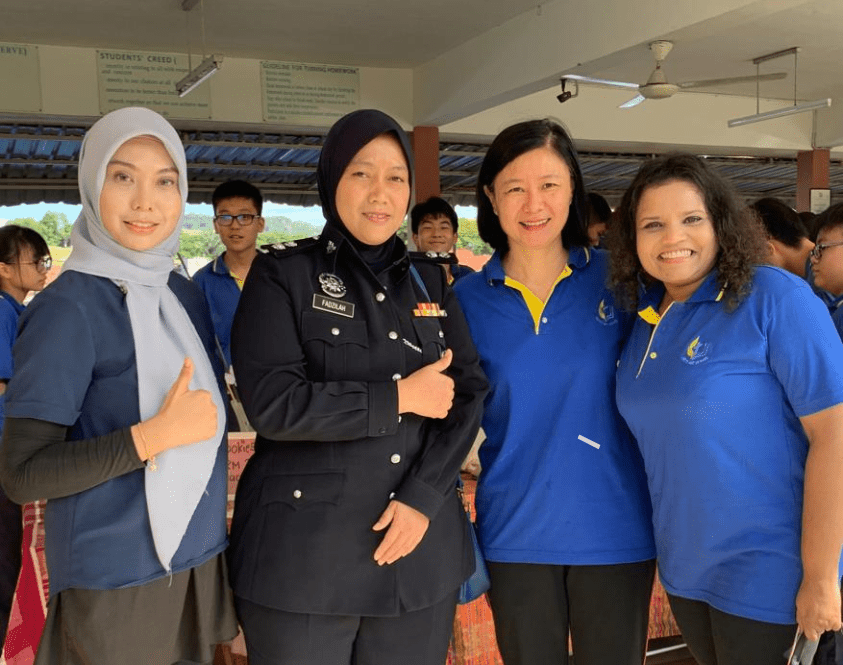 Community Support
Monthly visits from the local Police Department Inspector to ensure a safe and secure learning environment of our students' welfare.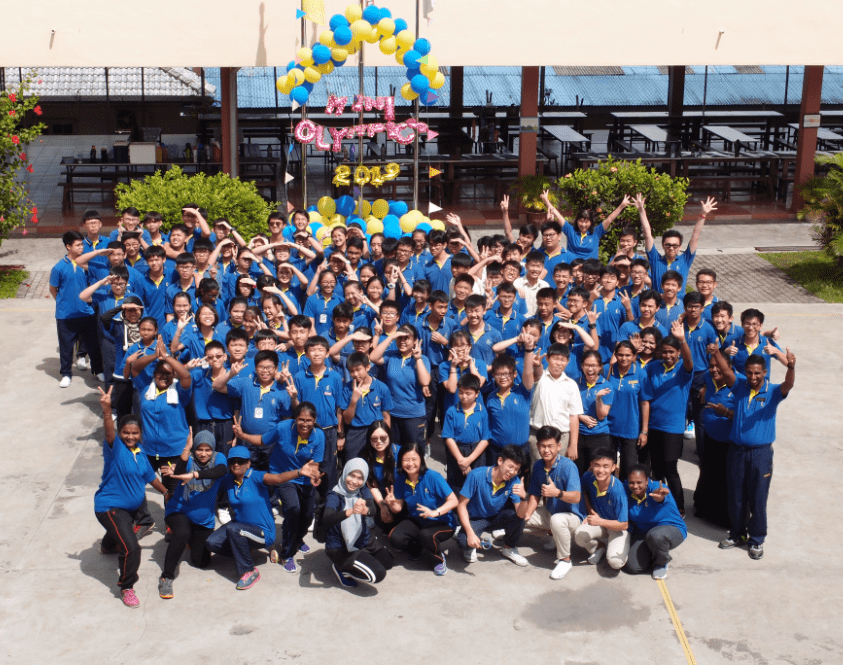 What Makes Us Different
Established since 1946 with a creative, committed and caring team
A school that is awarded a 5-Star Quality Standards Award for Private Institution (SKIPS)
Affordable tuition fees
Holistic education based on 4 Christian values: God-Centeredness, Respect for Life, Integrity and Excellence with Humility
Small and focused classes where personal attention is given to all students:

Career Guidance
Character Development Programmes
Discipline & Quality Education
Enrichment Programme (English, Maths, Science)
Mandarin Classes
Experiential Learning
Community Speak
Hear from the parents, students, and faculty about their experience, passions, and motivations at our school.
Exploring the World of Knowledge
"I like Wesley Methodist School Seremban because it is a great school for young minds to explore the world of knowledge." - Yogeswari, Form 2 Joy
Great Teachers
"WMSS rocks because of all the great teachers who teach me very well and I like the newly added house teams which makes me more active at school." - Manfred Lee, Form 3 Joy
Excellence from Guidance
"My teachers supported me in everything I do, and their classes are always very fun. My teachers encourage me to do better, so today, I have excelled in studies with the guidance from my beloved teachers." - Anis, Form 3 student
Embedding Good Values
"Morality, values embedded in its own style besides imparting, education, honing competencies & skills whilst growing, shaping Wesleyans to produce their BEST – that's WMSS." - Present S. Eswaran, Parent
Opportunities Aplenty
"In WMSS, plenty of opportunities are offered to me, such as being emcee, and my talent in performing arts was identified and appreciated. The teachers and students are also approachable and caring." - Lew Wen Kai (Evan), Form 5 student
Helpful, Friendly and Kind
"I learnt a lot not only in academics, but also built up my character and my interest from the activities in the school. I like this school because the students and teachers are helpful, friendly, and kind." - Hoo Ming Zhe, Form 2 student
NEW INTAKE 2023/2024 OPEN FOR ADMISSION NOW!
At Wesley Methodist School Seremban (Private), we are grateful for Jonathan's contribution while he was interning with us. Let us take a look at his own created video, that featured his genuine feedback on what he thinks of our school. THANK YOU, Jonathan, for your hard work and dedication, for your helpfulness and positive attitude.
Terms & Schedules
Wesley is the place where we intend to teach them to count and to know what counts!
General Information

School Term: January – December

School Hours

Monday – Thursday: 7.30 a.m. – 3.30 p.m.
Friday: 7.30 a.m. – 1.30 p.m.

Academic Support/Counselling

Monday – Friday: 3.30 p.m. – 4.00 p.m.

Assembly and Service

Chapel Service: Fridays 8.00 a.m. – 9.00 a.m. (Chapel is compulsory for all non-Muslim students)
Achieving Together
Delivering high quality education in preparation for the future
Our Young Achievers winning in competitions

We are a trilingual school

We focus on A.C.E.

We offer career guidance

We focus on discipline and quality education
Quick Links
Explore school links, academia, subjects, curricular activities and more
See You in School
We are excited to welcome you to our school! Kindly drop us your details and we will get in touch with you. You are welcome to make an appointment to visit our school and we will be delighted to show you our campus and share with you the details of our programmes.
See you in school!
2021/2022 School Intake Interest Form